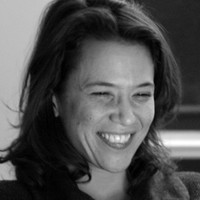 Stacey Billups
User Experience and Product Management Consultant for Blockchain and AI
https://www.staceybillups.com/
Great Barrington, MA, and Brooklyn, NY
The future has never looked brighter.

Stacey is the Co-Founder and CEO of YoJonesy, Inc., an independent consultancy leveraging AI and machine learning. Previously, she was Director of User Experience at Moody's Analytics, Thomson Reuters, and Big Data Block.

What was the moment you realized you needed support?
The moment I realized I needed support happened after a particularly hostile meeting at my corporate job. I was a high-performer, invited to climb the corporate ladder and was making good money, but after that meeting being an employee was no longer of interest to me. It lead me to want to be driving decisions and to create and foster a culture of respect and equality. And I realized I had landed in this position because I had not clearly set my intentions. I wanted to design my future and I wasn't sure where to start.
How did you decide Whitney's coaching could be that support?
I have always seen Whitney as a strong leader. Also, her communication skills have been an inspiration for me for several years. She is a great listener and insightful. Other factors that made me want to work with Whitney are that she has been a successful consultant for the majority of her career and that she had a successful transition from one career path to another.
What was the moment you noticed your habits were changing?
I realized habits were changing when I was turning away more opportunities than I was accepting. Those opportunities I started to say yes to, clearly aligned with my goals and those that I turned away did not. Also, I noticed my ability to assess a situation, both personally and professionally, became aligned with my core values, which was incredibly empowering!
How has coaching changed your circumstances or perspective?
My circumstances have changed a lot and all for the better. I am aligned with top-tier consultants, working on interesting and challenging projects. Also, I am co-founder in Blockchain startup. I am regularly checking in with my goals and what's important to me. My communication skills have greatly improved, which is having a positive impact on my professional and personal life. The future has never looked brighter.

Thank you so much, Stacey, for your kind words and reflections on our coaching engagement. My utmost gratitude to you!


Related Posts: