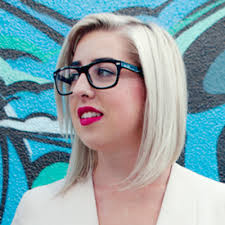 Kaitlin Maud
Founder and Business Strategist
https://twitter.com/kaitlinmaud
Los Angeles, CA, and Austin, TX
My habits started to change from the very beginning of our engagement together.

Kaitlin is the Founder of Current Forward, an independent research and strategy consultancy. Previously, she was Director of Strategy at T3.

What was the moment you realized you needed support?
When I contacted Whitney, I was coming off of a period of intense change and found myself at a point where I was unable to figure out the next steps required to continue moving forward. In particular, I was getting clear on what I didn't want with my career and with what wasn't working, but was stuck when it came to figuring out what I did want.
How did you decide Whitney's coaching could be that support?
When I saw that Whitney was offering coaching, I knew she'd be the perfect fit for my needs. She had already done a lot of what I was hoping to do professionally (grow a successful business, take advantage of speaking and writing opportunities) and her background in UX made me feel confident that she would understand and empathize with some of the challenges I was facing in my work as a Strategist.
What was the moment you noticed your habits were changing?
My habits started to change from the very beginning of our engagement together. I started talking about myself and my work differently (more positively! more clearly!). I started scoping projects in ways that better catered to my work style (smaller timelines! less deliverables!). And my habits still continue to change: I have recently started offering coaching to my own clients.
How has coaching changed your circumstances or perspective?
Coaching has helped re-frame my perspective on myself & my skills, and find new excitement in my unique offerings. This has helped build my confidence in work, and really all areas of my life.

Thank you so much, Kaitlin, for your kind words and reflections on our coaching engagement. My utmost gratitude to you!


Related Posts: