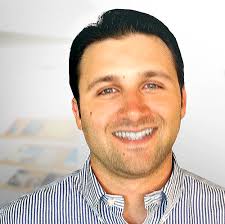 Chris Chiusano
Product Designer and Certified Coach
http://chrischiusano.com/
Medford, MA
Working with Whitney helped me build my confidence, trust myself and stopped me from judging success based on others' opinions.

Chris is a Product Manager and Designer at PathAI, as well as a certified professional coach. Previously, he was Senior Manager, User Experience at athenahealth, and held design leadership roles at Autodesk and Constant Contact.

What was the moment you realized you needed support?
I had been working as an individual contributor throughout my career and had the opportunity to transition into a management role. In this new role I was asked to lead a small team. I knew that what had made me successful as an individual contributor wouldn't necessarily make me a successful manager. That's when I knew that in order to succeed in my new role, I would need additional training or support.
How did you decide Whitney's coaching could be that support?
When I began seeking out different training and resources, I found that most management resources were skewed towards sales and marketing. These were helpful but not always relevant to my role as a design manager. I had been a long-time fan / follower of Whitney after seeing her speak at An Event Apart years earlier. Shortly after moving into my role she had launched her coaching business. To me, she had the perfect combination of a successful background in User Experience along with the tools and capabilities to help me grow and move into my new role. I immediately reached out.
What was the moment you noticed your habits were changing?
I first noticed that my habits were changing when I began to listen and trust my inner voice. After a few sessions of working with Whitney, I realized that I had been ignoring it for a long time. Working with Whitney helped me build my confidence, trust myself and stopped me from judging success based on others' opinions. I knew things were changing when we were able to build a plan from where I was to where I wanted to be.
How has coaching changed your circumstances or perspective?
Without a doubt, coaching drastically accelerated my career in a short period of time. Having worked with Whitney for about three years, I was able to leave a job I had been stuck in for too long, increase my salary, grow from maker to manager, and I even began pursuing my own journey as a coach. Before working with Whitney, I used to believe that coaching was something specifically for executives, but now I know it's for anyone who is willing to put in the work and make a change.

Thank you so much, Chris, for your kind words and reflections on our coaching engagement. My utmost gratitude to you!


Related Posts: