All men carry pens, right? But putting a pen in your pants pocket can be a bit of a pain — it rolls around with your keys, sticks out to one side, the cap tears at the pocket lining.
Sitting next to my friend Nik Agharkar at a dinner party, I noticed him reach inside his suit jacket to grab a pen when the bill came. And that's when I saw it: the pen pocket.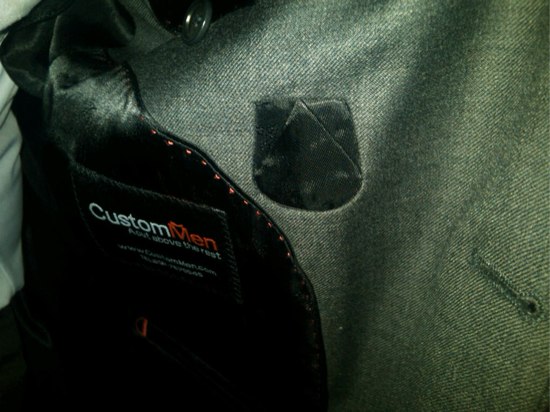 Forgive me if this is incredibly common and I'm just late to the game. I'm not a man, I don't own men's suits, and I don't have a tendency to look inside many men's suit jackets. Or perhaps I just don't know many men who wear bespoke suits. Nik's suit by Custom Men has this ingenius feature and I just had to snap a pic.
I poked around and found other examples of this:
"Pen pocket is a simple and practical addition to your suit. This is a must have customization option for business men. Pulling a high class pen from a pen pocket to sign an important deal is a great way to display a personalized lining color and to subtly insinuate that you own a bespoke suit."
"No more fumbling around in your pocket trying to get a grasp of your Mont Blank (or 4 bic); our fantastic New Product Development whizz, Mighel Critten, has launched a REALLY cool attribute that'll be put into all our suits for this moment onwards! On the inside of the jacket, next to the pocket, is a small slot specifically designed to hold a pen. This extra feature will now come with every suit purchased from ASuitThatFits.com."
But of course, this feature is conditional for two user groups: right-handed or left?
"I was thoroughly satisfied, save for the fact that they failed to ask me if I was left-handed: the pen pocket on the inside of the jacket was on the wrong side. … If I were a more patient man who cared immensely about the placement of the pen pocket, I would've held the Michael Andrews Bespoke to their satisfaction guarantee. However, the truth is that it's not all that important to me, and I already felt that seven weeks was long enough to wait."
Related Posts: