Mike Dizon and I went out for lunch around New Work City one day. We walked past Pepe Rosso, a pasta take-out joint on Sullivan St. that Mike insists is the best around. So I poked my head in to take a look, and saw this sign hanging in the entrance: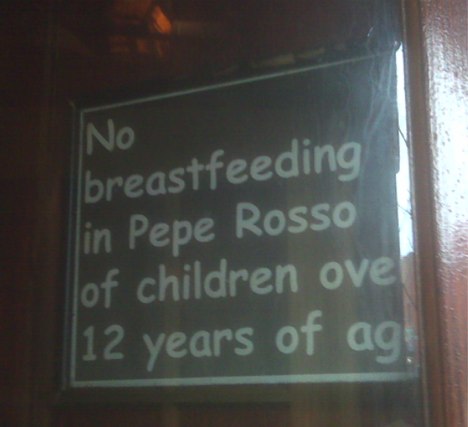 No
breastfeeding
in Pepe Rosso
of children over
12 years of age
I had to do a double-take. Certainly breastfeeding isn't allowed in a small restaurant, but wait what?! Over 12 years of age?! That's just gross. And hilarious.
Of course my first thought was that it would be a great photo for my blog, so I had Mike snap a pic with his phone. The sign is behind glass so we got the best shot we could.
Watch out for those breastfeeding teenagers!
Related Posts: