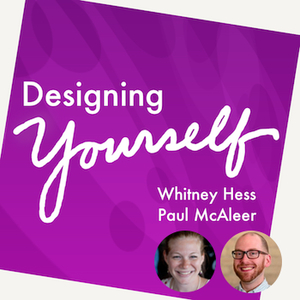 TEN years ago today, Paul McAleer and I dropped the first episode of our podcast Designing Yourself. Paul and I had met at the IA Summit that April. Soon after we started chatting on the phone regularly; I was beginning my coaching journey and Paul was ramping up on the speaker circuit. It was apparent from our first few conversations that we had a tremendous connection, shared reality, and an ability to go deep. Paul said, "This should be a podcast!"
I had no idea what a podcast actually entailed (I wasn't much of a podcast listener then, nor am I now). But Paul knew what to do and made it all happen. We recorded 30 episodes over the next 2 years and 2 months.
Paul did the lion's share of the work. I was impossible with scheduling. Yet every time we recorded, it was magic. We captured something truly special, exploring our ideas on self-care, self-awareness, emotional intelligence, empathy, inner work, presence…long before these topics were mainstream. We decided to call it Designing Yourself because we were two user experience designers and this was all about turning the lens on ourselves.
Podcast analytics are tricky, especially then, so it's hard to say what kind of listenership we had. Our friends enjoyed it, we got nice comments online, people engaged with the episodes. But I never knew if it had much reach. That wasn't the point anyway. Paul and I loved the conversations we were having. We were just excited to invite people to listen in. It didn't have to be anything more than that.
Two years after our final episode, I went to a coaches meetup at a Starbucks in Midtown Manhattan. When we broke into small groups, I introduced myself as Whitney Hess. The woman across the table from me gasped, "Wait, you're Whitney Hess?! From Designing Yourself?!" I thought I was being punked. She went on to gush about how much she loves me and Paul, how much the podcast means to her, how the night before she was discussing an episode with her best friend. "When is your next season coming out?? It's been too long!" I have never been more stunned in my life. It was like I was a celebrity. My cheeks flushed and I bolted up in my chair; my eyelids must have reached my hairline. I couldn't believe it. She went on, telling the other stranger sitting with us all about it, getting her to download the podcast on her phone. To this day this remains the most mindblowing thing that has ever happened to me.
Paul deserves all the credit—from the idea to the editing to the website, all of it. I felt lucky to have someone so brilliant and caring who wanted to collaborate with me on a project, who encouraged me to talk at length about the things that matter to me. Thank you forever, Paul!
I am deeply touched that anyone ever got something from it. Thank you thank you to every single one of you. I am amazed it has been 10 whole years. I hope the episodes have staying power. Please have a listen if you're so inclined. We have transcripts too!
Thank you also to our brave and brilliant guests, Gina Trapani, Leslie Jensen-Inman, Karen McGrane, and Roz Duffy, whose episodes in Season 2 were rich and heart-expanding. We were so lucky to have them with us.
Related Posts: