I walked into the Barnes & Noble on 18th Street and Fifth Ave the other day, and found something curious. Lines of colored tape along the floor.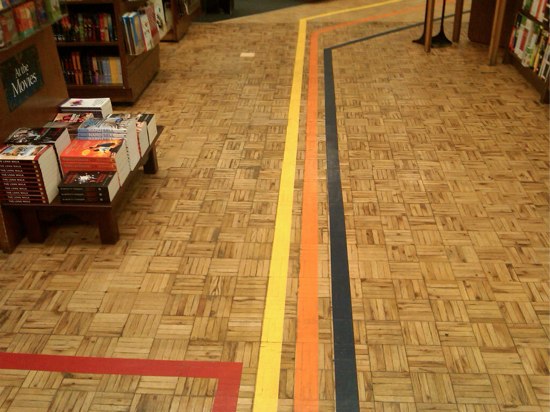 As I approached a sales guy for help finding something, I overheard him talking to the gentleman before me: "Just follow the yellow line to the end and it'll be on your right." The guy was a bit confused for a moment — you could see him thinking, "yellow line?" — but then the sales guy pointed to the floor and the shopper was on his merry way to the Business section or Biographies section, or whatever the yellow line happens to end at.
The physical structure of the space makes it impossible for a salesperson to point off into the distance and say, "Travel is over there," because there's probably a wall or ceiling between here and Travel. These colored tapes prevent each salesperson from having to walk the customer to the shelf they're looking for, but it does in fact need their facilitation — there is no legend posted in the store to indicate which color goes where.
Most people aren't aware that the kind-of-crappy, oddly laid out, fairly small B&N on 18th Street is actually the megachain's flagship store — where it has been open since 1932! The original location was a few blocks away and opened in 1915, but later moved to the smaller location in the Great Depression. The B&N history is explained on Wikipedia, but amusingly their corporate site only starts the history when Leonard Reggio acquired it in the 1960s.
The only other place I've seen anything similar to this is at Powell's Bookstore in Portland, Oregon. The place is absolutely enormous, so they color code each room and use a map to indicate which sections are in which room.
Similarly, I've also seen a path of footprint stickers on the floor at the flagship Century 21 showing customers the roundabout way to the adjacent shoe department.
This Photo of the Day is timely because much to my dismay, the Barnes & Noble in my neighborhood (Lincoln Triangle at 66th and Broadway) just shut its doors on January 2. I was there on the last day to help empty the shelves, and ended up buying 13 books. After 15 years in that location, the landlords drove up the prices so high that floundering B&N could no longer afford it.
So what's taking over its space? Century 21.
Related Posts: