At the end of last year, I contributed to a year-end roundup piece in A List Apart called "What I Learned About the Web in 2011." I shared the most impactful lesson I had learned from various user research projects last year.
CONTEXT IS KING
The most important thing that 2011 taught me about web design is that physical context of use can no longer be assumed by platform, only intentional context can. For the past couple of years, we have gotten into the habit of presuming that mobile means on-the-go, desktop denotes a desk, and tablet is on the toilet. But increasingly the lines are blurring on where devices are being used and how they're being used in unison. This year I have learned to see devices as location agnostic and instead associate them with purpose—I want to check (mobile), I want to manage (desktop), I want to immerse (tablet). This shift away from objective context toward subjective context will reshape the way we design experiences across and between devices, to better support user goals and ultimately mimic analog tools woven into our physical spaces.
When I had blogged about my reflections, Jim Nielsen commented that my thoughts had spurred him to create a graphic to represent my idea. I love it so much that I wanted to reblog it here.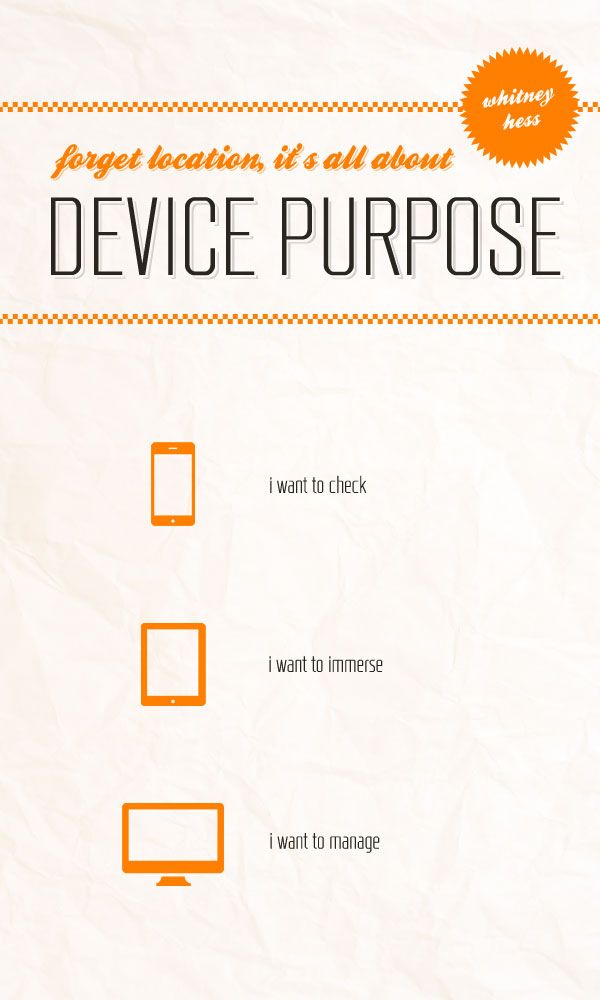 Paul Boag also read my thoughts in ALA and wrote about his reaction in a post titled, "Device implies use not context." In his case he's using "context" to denote physical context, whereas I differentiated between physical context (location) and intentional context (intention of use). While he likes the notion of tying device to intent, he isn't entirely sure he agrees with the intentions that I apply to each device.
What do you think of how I'm using device choice as an indication of intention and not location? Do you feel that my division of check/immerse/manage is a fair one?
Looking forward to hearing your thoughts as I dig into this concept more deeply.
Related Posts: