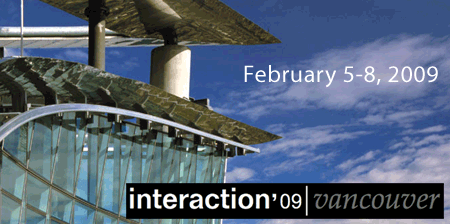 My Twitter notes from Interaction 09 Day 3 — Sunday, February 8, 2009 — are below. I have gathered my tweets from Day 1 and Day 2 in other posts.
I'm Twittering from the last day of @interaction09 http://interaction09.ixda.org/ thanks to @boxesandarrows http://boxesandarrows.com
@mrettig is now giving this morning's keynote entitled "How to change complicated stuff (e.g., the world)" http://is.gd/iPm7
"The Great Turning" @mrettig says he's proud to be alive in the time when we figure out how to truly create sustainability
A shift in values, from "I" to "we". A improvement in our quality of life. But "sustainability" is a mechanical, emotionless word
Design is personal, intimate, sensitive. @mrettig wants to introduce us to the people that have inspired him
@mrettig, trying to play audio in his presentation, says, "Um, how do I click something?" since he's holding the remote. Laughter.
Retweeting @mojoguzzi: @whitneyhess at work #ixd09 http://twitpic.com/1e3qb
@mrettig doing research on sleep apnea devices. Showing a video of a woman talking about her cumbersome, annoying device
Personal stories are not engineering metrics. "It's about improving people's lives with design solutions."
Design is intimate even when the product isn't. @mrettig telling story of person who thinks their digital camera "is full"
@mrettig re-titling his preso: "How to do a better job of changing the world" Make products better for people, not just suck less
Inspire project groups in large companies whose products are used by large numbers of people and you'll change the world — @mrettig
Working to make a difference: team planning workshop > 2nd workshop > ethnographic research > product concept workshops >
> concept validation in homes > new strategic intent
It can be tough to talk to people about sensitive topics, and equally difficult to analyze the data. Use language that's comfortable
"Lesson: the work of change is *social*. Deliberately plan for ripple effects. Nurture their outward spread, by nurturing …
…the people and relationships that are in any way involved in the change." — @mrettig
Program of change: begin together, map social web by which the work will be done. Immerse to understand what diff is worth making…
…conceive and try possible ways to make that difference. Continue understanding and trying until the difference is made
"Nurture the people and relationships, propagate the ripples of understanding and empathy" — @mrettig
Immersion experiences are like juice in morning. Team wakes up, sees that theyre connected to the lives changed by each design choice
"We often work at the wrong level in the system. And we often take a mechanistic view when an organic model is more true" — @mrettig
"Relationships are more important than the things themselves. Want to identify oops to heal the system by creating boundary objects..
… unblocking flow across relationships, making new relationships possible."
@mrettig's doodles when on the phone are revealing some insights, starting to think in terms of fields, "homes are animals"
Households are organisms. Their own internal state, relationships. Sensing, reflection. Cycles, daily, yearly, longer
@mrettig talking about a project researching the food distribution at Whole Foods attempting to reveal breakdowns in the process
"A consequence of working for change: You can no longer be satisfied with shipping the product, launching the site, finishing…
…the product. You must establish the change, put in place the necessary conditions for it to be come the new Normal."
@ebacon Ditto! I like when keynote speakers are also participants. Makes me feel warm and fuzzy
Designs of the Time: http://dott07.com/ Community projects that explore how design can create sustainability in certain regions
Eco-Designers Guild: http://www.ecodesignersguild.blogspot.com/
There's a lot going on, @mrettig collecting links on sustainability and design here: http://delicious.com/mrettig
Chris Travis @truehomeguy http://tinyurl.com/a9snc2
"In the middle of the road of my life, I awoke in a dark wood where the true way was wholly lost." — Dante
@mrettig Phenomenal job!!
"It's everyone's responsibility to make sure the product survives. Especially the designer's" — @cwodtke
B=f(P,E) Behavior is a function of both the person and the environment
@cwodtke talking about Flickr's photos defaulted to public. Great for viral, but downside: ppl who favorite all pix of little girls
You have to give control to your users to protect their privacy, even if it dampers virality
Social network = group of people subscribing to you. Suddenly you have a better reach. Twitter has asymmetric follow (non-reciprocal)
"Find you friends" on Twitter or Facebook auto selects all contacts. Annoying when you invite accidentally, but powerful viral tool
@cwodtke recommends Influence http://tinyurl.com/2qy9ux
Targeted features for the most *useful* users. Power law of participation: http://tinyurl.com/ysnqy3
@cwodtke giving props to @armano for his Tipping Point graphic: http://tinyurl.com/c3l8dr
LinkedIn gives group managers a lot of functionality even though they're a small minority of their user types. They're most valuable
Unless you're Yahoo, you probably need to think about getting traffic to your site. Outreach is key. Get your users to link to you
Share links on LinkedIn, Facebook, Twitter, Digg, Delicious, etc. Choose the sites wisely based on what your users actually use
A giant wall of bookmark lists is a turn off, creates friction. Just a few will call out to those who use those services. Pagerank!
@cwodtke's viral checklist: frictionless, impactful, targeted, outreach. Use it when you're doing your wireframes
Reach @cwodtke on LinkedIn (duh) at http://linkedin.com/in/christinawodtke
I'm Twittering from Tim Wood's "Lo-Fi: Sketchbook Techniques for Interaction Designers" http://is.gd/iQxw
Tim reminds us that while sketching is the talk of the town these days, it's been around as a communication tool for 1000s of years.
Tim Wood cites Da Vinci — having related drawings all on the same page, several iterations, easy to access later
Resolve in steps. Resolve as needed. Redraw. Overdraw.
Synthesis isn't necessarily in terms of visuals that you put on the page but also about the observations you make, fusions that occur
Tim prefers to sketch in ink, likes the weight on the paper, impossible to erase. Leave ugly drawings and build on them
Notate. TIm showing Da Vinci's detailed notes. Documentation helps build up the *body of knowledge*
Cut and paste. Sometimes you're away from your tools. Back-of-the-napkin sketches can be reintegrated back into the notebook
"Art is never finished, only abandoned." — da Vinci. Tim keeps all of his sketches, pastes them up and surrounds himself with them
At the end of a project, go back to your sketches and look at your thought process. See where the insights happened, find new ones
Got caught up in a great conversation with friends so I unfortunately didn't make it to Kim Goodwin's closing keynote.
Related Posts: