Last month I got the green-light all the way from the top to publish my writing on Huffington Post. I don't know the exact numbers, but according to comScore in August 2013, Huffington Post had upwards of 46 million monthly U.S. unique visitors and 78 million monthly global unique visitors. That's about 3 times the traffic to the NY Times.
It's an unfair comparison because Huffington Post is different. It's written by the community. Yes, there are some paid reporters, but the vast majority of the content comes from its 50,000+ bloggers. And I'm proud to now be among them.
In particular, this is giving me a new platform to share what really matters to me: bringing mindfulness and compassion into business. Arianna Huffington's new book Thrive is about redefining success beyond money and power. What she has called "The Third Metric" now has its own section on Huffington Post and much of what I write will appear there.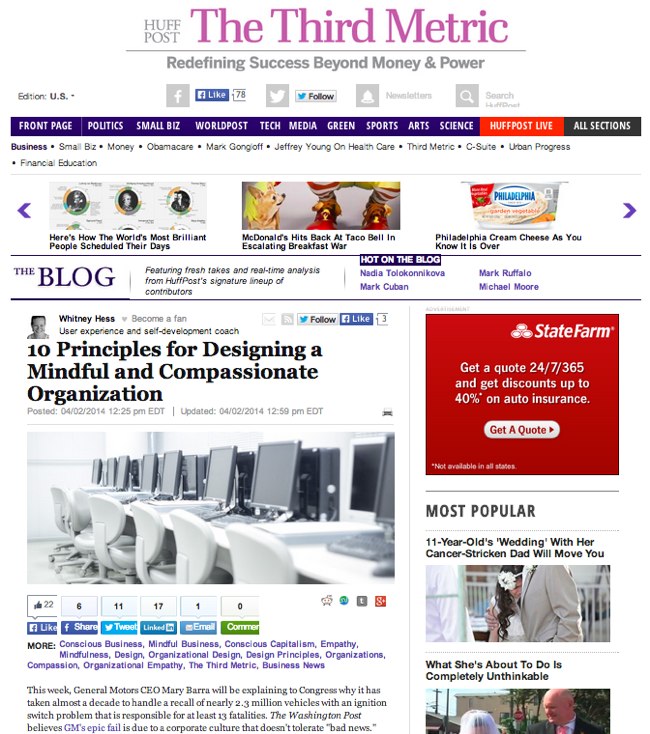 Yesterday I published my 10 principles for designing a mindful and compassionate organization. I had originally posted it here on Pleasure & Pain, but this week's General Motors testimony to Congress about their decade-delayed recall that has caused 13 pointless deaths made these principles even more timely and relevant.
I hope you'll take a look and share it with friends. Thank you so much!
Related Posts: