A couple weeks ago I suddenly saw a resurgence of interest in an article I wrote for Mashable in January 2009 titled, 10 Most Common Misconceptions About User Experience Design. Later that year I turned it into a presentation and had a pretty good run with it, until I felt that my message was widely enough understood that I could move on to something else. So you can imagine how surprising it was to see the article and presentation vehemently flying across Twitter four years later.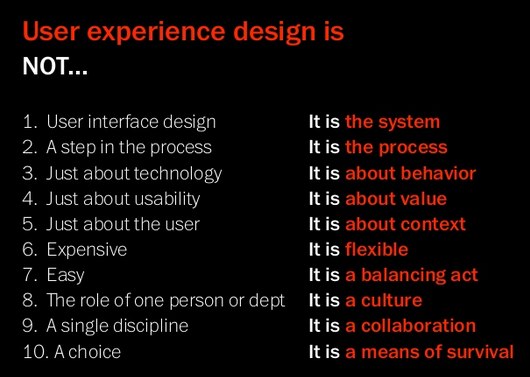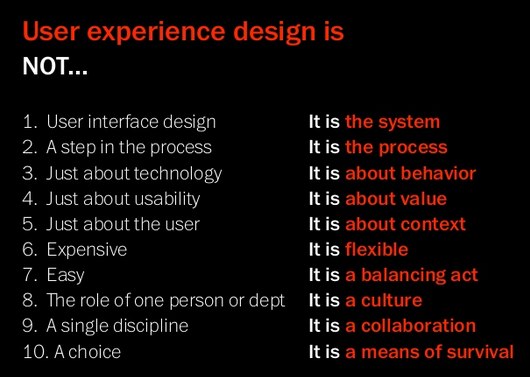 The next day I happened upon a May 2012 article in Forbes titled 10 Jobs That Didn't Exist 10 Years Ago. I'm not sure how I missed it when it was first published, but it seemed to be making the rounds again last week. When I saw that User Experience Design was one of the 10 jobs they featured, I came to realize that these two incidents were no coincidence…especially when I read their description of the job.
User Experience Design

What is user experience design? Quite simply, experiences created and shaped through technology and how to make them happen. Case in point: the experience of waking up to an alarm clock is very different from the experience created by the rising sun and chirping birds. A user experience designer's concern is how to mimic the birds-sun experience through technology (see the variety of alarm clocks on the market that grow louder and brighter to wake you gently). Would-be designers should be fluent in Photoshop, understand programming languages like CSS and HTML and feel comfortable taking an idea from sketch to prototype. As far as demand goes, things are looking bright: a recent indeed.com search returned 168,219 job listings.
The term "user experience" was coined by Don Norman in the mid-90s, though it took a few more years until it was used in a job title. Jesse James Garrett's formative The Elements of User Experience was published in October 2002, so I suppose it's true that the title didn't exist precisely 10 years prior to the publication of the Forbes piece. But suffice it to say, this is not a new profession. I feel very strongly that it is no longer productive to spotlight it for its newness. It is an established discipline with hundreds of thousands of people worldwide bearing the title and receiving a paycheck for it. It is not a fad, not a recent innovation, and not something bleeding edge that companies must be careful when investing in.
But sadly as the field of User Experience has matured, it still seems it isn't any better understood.
I appreciate the Forbes author's effort to distinguish User Experience Design from User Interface Design, two very different roles that are often conflated by the media, HR departments, and even the people who practice them. But in describing the emotional events user experience designers aim to elicit, making your alarm clock mimic a natural sunrise is not likely to be one of them.
What I really take issue with are the skills the author lists as necessary to possess for those who wish to enter this field: a fluency in Photoshop, HTML and CSS, and an ability to take an idea from sketch to prototype. I have been a user experience practitioner for a decade and I have never once had to open Photoshop, let alone be good at using it. Yes, I can write HTML and CSS (and even PHP!) when it comes to tinkering on my own blog, but it has never been required of me for a paying job. And as my consulting practice has evolved, I hardly ever sketch and it's probably been five years since I've built a prototype.
Not all user experience designers are alike. I know tons of UXers who live to draw, love to hack, know their way around the full suite of Adobe design products. But it is in no way a requirement to being a successful user experience practitioner. I am proof.
There are in fact skills that every user experience designer must exhibit, regardless of sector, seniority, or specialization:
A proficiency in building empathy for customer needs
An aptitude for communicating with colleagues across organizational functions
The initiative to investigate a problem and generate a multitude of solutions for it
An eye for intuitiveness and simplicity
Knowledge of the features, benefits, and weaknesses of a vast array of programming languages and technology platforms
Diplomacy
Patience
Humility
Most of all, what unites all user experience designers is a deep belief that companies should never stop striving to make their customers' lives better. The tools are interchangeable. The activities are contextual. But the philosophies are the same.
The good news is that people still want to learn what this is all about. They are still fascinated by the field of User Experience and want to understand how it applies to their everyday work. Quite often, they wish to find a way into practicing it. This is an incredibly open and welcoming community. People are always willing to lend a helping hand, offer advice, provide feedback or make an introduction. All you have to do is ask.
Related Posts: