The Museum of the City of New York has one of the most extensive photo archives of historical NYC in existence. They made a significant portion of it (13,895 photos to be exact) available online last December, and when I first read about it on Gothamist, I must have spent hours combing through it all looking for cool stuff.
Here is a collection of old machinery I found, in chronological order. I just love seeing early 20th century evidence of human-computer interaction and design.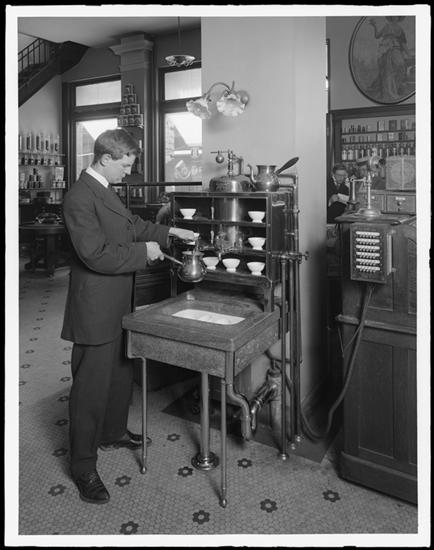 Self-serve milk at a local coffee shop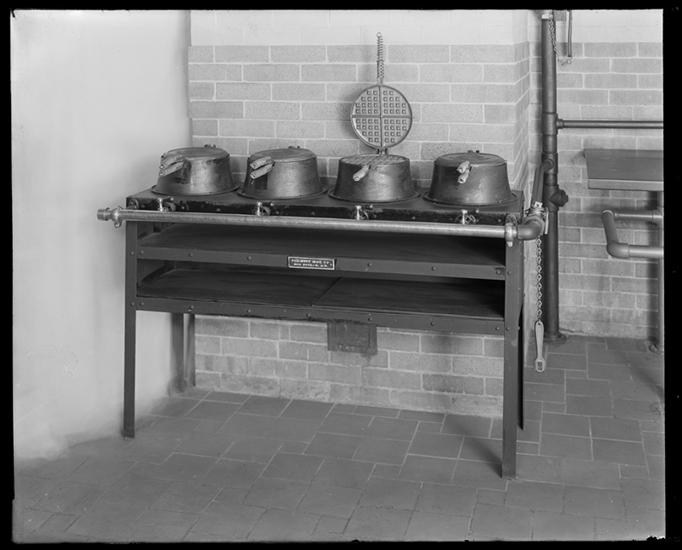 For use in a restaurant or hotel?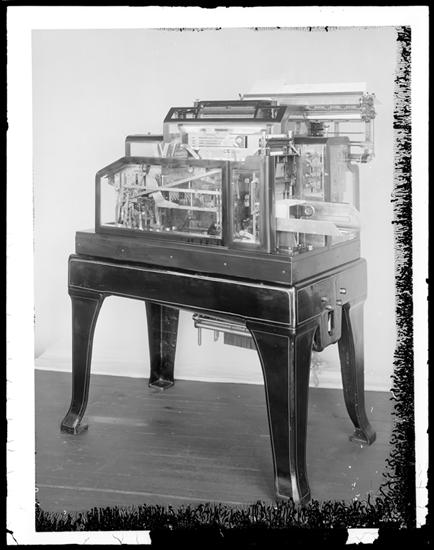 "But quite as significant as the co-ordination of the work of great departments into one harmonious whole, is the mechanization within certain departments of vast quantities of work, including clerical, accountancy, statistical—and, in fact, of almost any type of information or record that may be required by the directing forces of the company. Outstanding among the methods employed are the uncanny performances of the " Powers " Sorting and Tabulating Machines. These are the least ostentatious machines that ever made a revolution, being human in their seemingly self-suggested intelligence, and inhuman in their deliberate yet unerring precision. They are important because they have played a major part in solving the cardinal problem of the high cost of industrial assurance." — The Prudential Assurance Company, 1934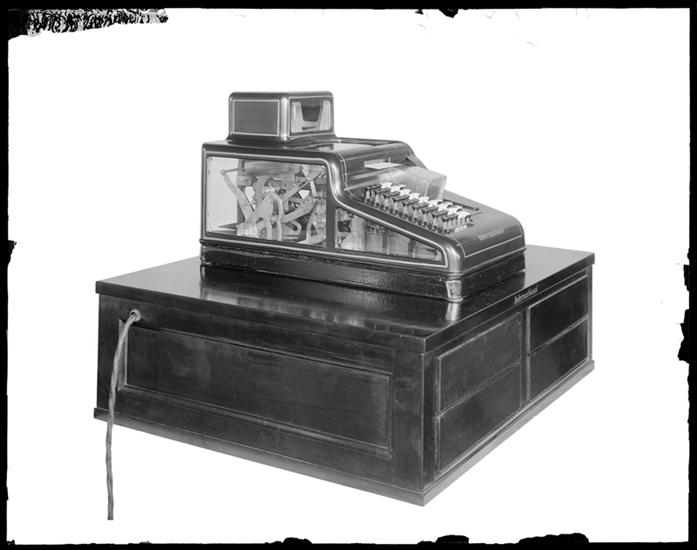 I haven't been able to figure out what "Tily" means, but this is an early IBM (International Business Machines) punch card counting machine.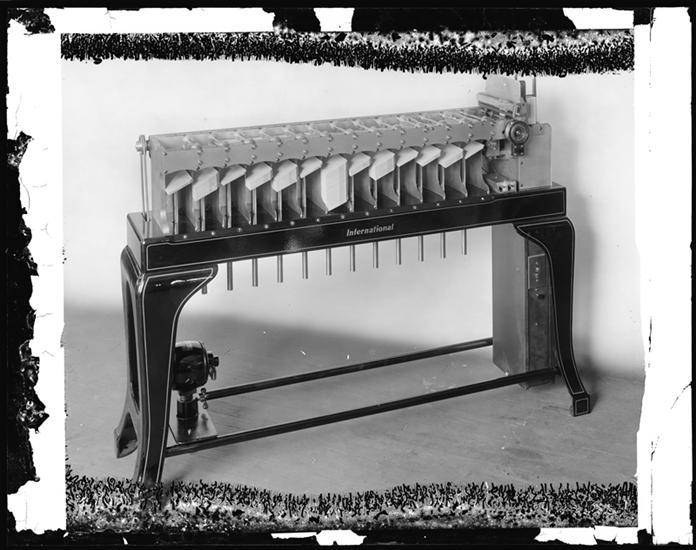 "This is the first horizontal card sorter, introduced by IBM in 1925 to operate at almost twice the speeds of the older Type 70 vertical sorter. This machine uses a direct magnetically operated control for the chute blades which replaced a much more complex mechanical device in the older machine. The Type 80 grouped all cards of similar classification (such as "sales by products") and at the same time arranged such classifications in numerical sequence. With 10,200 units on rental at the close of 1943, the Type 80 had the largest inventory for any machine at that time." — IBM Type 80 electric punched card sorting machine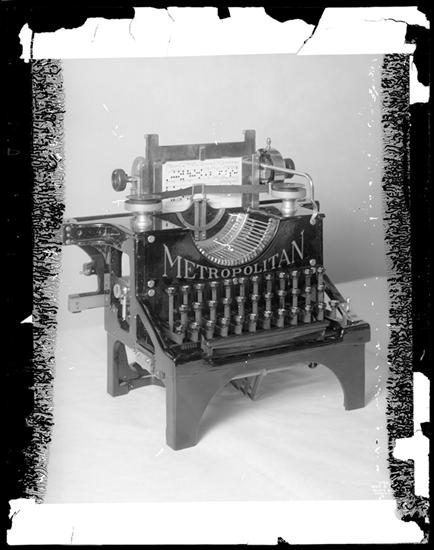 "About 810 members and guests were present at a luncheon given by the Metropolitan Life Insurance Company and listened to a most enlightening address by President Fiske, who explained in detail the many activities of the Company, and the special provisions for the health, recreation, and general welfare of its employees. Moving pictures of the Sanitorium built by the Company in the northern part of New York State, were shown.

The party was divided into small groups, which were conducted to all the various points of special interest in the building, including the dance hall, dental clinic rooms, commissary department, filing rooms, card-selection and punching machine room, hospital facilities, etc." — Proceedings of the American Society of Civil Engineers, 1921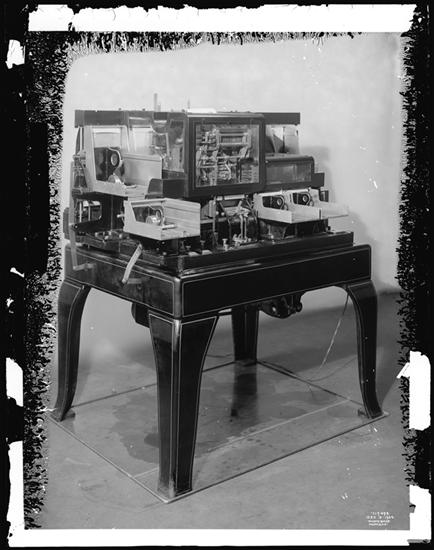 "In 1917, the bank installed a modern posting machine, and by 1924, had eliminated book balancing." — Nodaway Valley Bank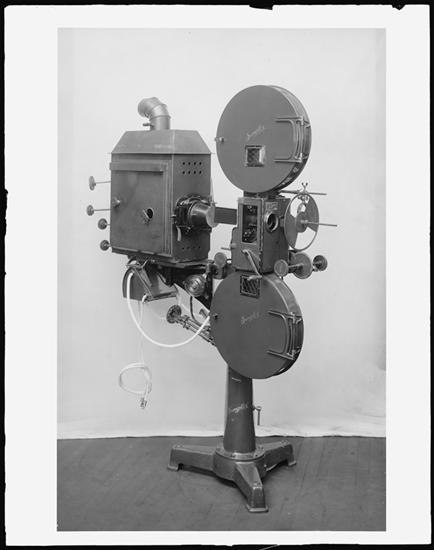 Simplex Film Projector by The Precision Machine Co.
"Unlike the machine builder whose dream it is to 'capture the machine market over night' we started by building an honest machine with original features.

Through the consistent adherence to this policy of making every machine as good as the one before it we have been rewarded by seeing the Simplex installed through merit alone in the world's finest and best known theaters.

And to those who are making extravagant claims for certain untried product we repeat that a reputation must be earned by hard, honest work, and merit can only achieve success." — 1922 Ad for The Simplex Projector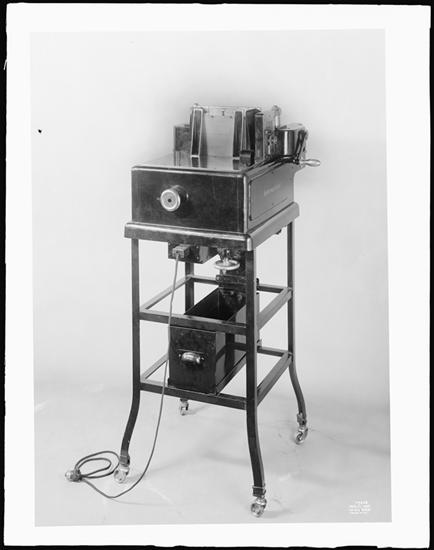 "Gang punch – these would produce a large number of identically punched cards—for example, for inventory tickets."

I think this was used for creating address plates for mailings, but can't confirm.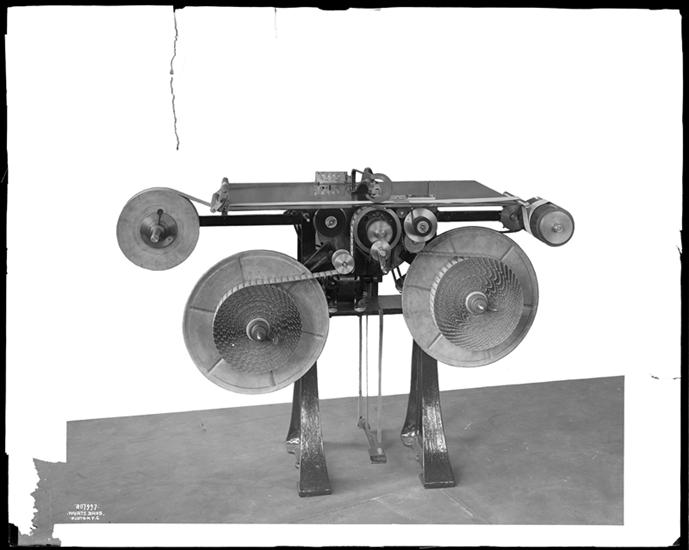 "The envelope addressing machine here shown as embodying the invention comprises the frame 10 supported on legs 12. The frame has a flat top which comprises a table 14 along which the envelopes are adapted to be moved from the left to the right, Fig. 1. Immediately beyond the printing position said table is inclined downwardly as illustrated at 14a, Fig. 1, so that the' envelopes can fall down away from the machine and out of the path of succeeding envelopes." — Addressing Machine, United States Patent Office, 1927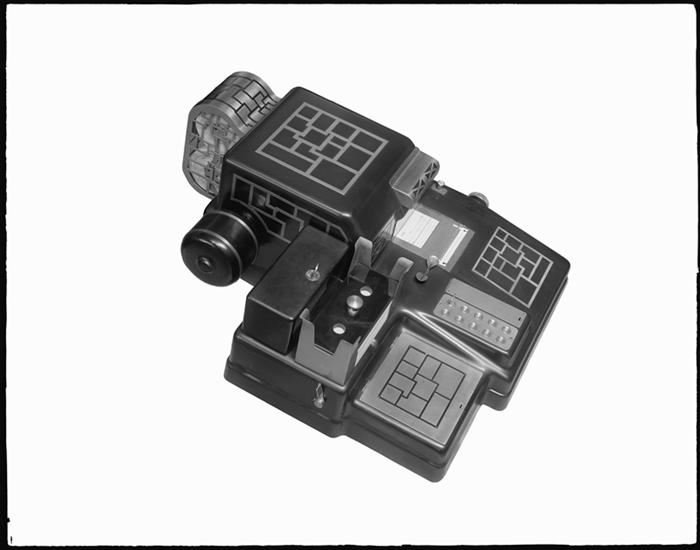 This is a prototype of a device that I don't think was ever released, at least not that my research can find. Whittier Machine Company — which produced steam-boilers, steam and hydraulic elevators — had already been acquired by Otis Elevators. Must be another Whittier.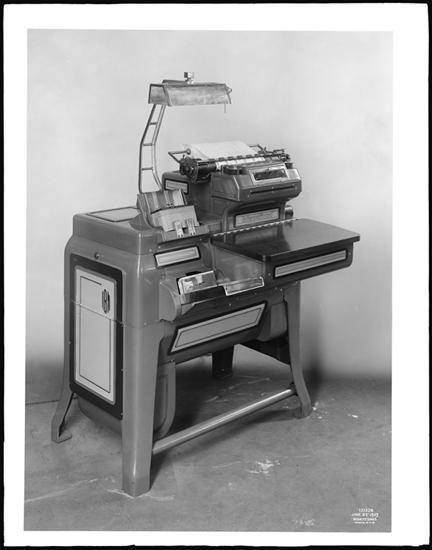 This somehow preceded the IBM 405 Alphabetic Accounting Machine, which wasn't released until 1934, but I can't find out what it is. It doesn't look like the IBM 301 (Type IV) to me. Stumped.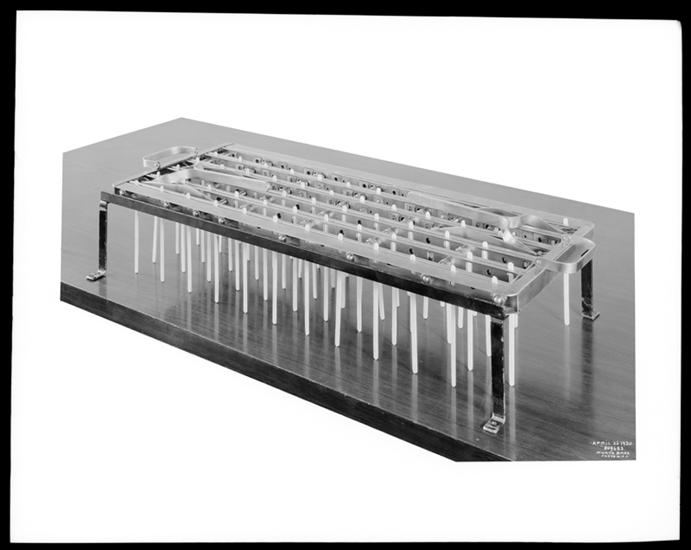 I found out that Popsicle was patented in 1924, but couldn't find out anything about this "handling machine."
I really want to own one of these machines just to display in my apartment. It would be such a cool conversation piece. I've loved doing the research on these relics, and hope to discover more old photographs to explore.
Related Posts: