Take the Helm — leadership coaching for UX managers
Whether your organization is new to user experience, has yet to adopt a consistent design process, or is operating without a product strategy, you have the power to change how decisions get made. Be the leader your team needs and steer them in a positive direction.

It may be time to Take the Helm if:
Your team does great work, but your vision is rarely realized because your organization doesn't fully support the principles of user experience
You've been tapped to lead a new UX practice, but are struggling with the shift from tactical execution to strategic planning
You enable your team to periodically do a few UX-type activities, but now you're ready to establish a more formal process
Your team has a UX process in place that yields great results, yet you can't help but wonder what more you could be doing
Your organization doesn't have any/many dedicated UX resources, and you want to start training people to form a strong team
When you work with Whitney to Take the Helm, you do all the hard work. You hone your UX skills and your leadership skills in equal measure. You receive the tools to build new competencies on your team, establish more effective systems, and seek support where needed. And you get Whitney's expert guidance every step of the way.
Whitney started a cultural shift that has continued to date. Metaphorically, she planted the UX tree that continues to grow in our organization." ~ Rick Cusick, CIO, Reading Plus
UX leaders who work with Whitney to Take the Helm now can:
Determine how and when to apply UX methods
Make sense of customer feedback
Tackle feature bloat
Defend against unfounded demands
Reduce team conflicts
Build stakeholder consensus
Educate senior leadership on the value of user experience
Make significant progress on long-overdue projects
Reorganize team structure for greater efficiency and effectiveness
Change company culture to be more mindful and compassionate
Make customers happy (and colleagues, too!)
Are you ready to Take the Helm?
It's time to take the first step in changing how your team gets things done. Email [email protected] to tell Whitney what you need.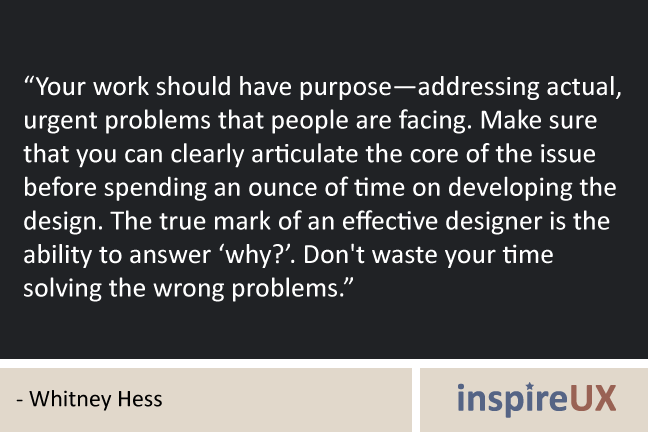 With worldwide recognition for her work, Whitney has helped establish a user experience discipline within product and engineering teams at dozens of Fortune 500s, nonprofits and growing startups. Her clients routinely report increased usage and reduced customer complaints after working with her. They spend less money making poor choices and make more money from happier customers. They devise long-term strategies for product growth by developing greater empathy for their customers to better predict their future needs. Best of all, they feel more confident in their decisions as a team, enjoy working together more, and find greater purpose in their work.
When you Take the Helm, you receive:
A 6-month game plan tailored to your team's needs and the specific leadership issue you need to resolve (including the purpose and intended outcomes of a UX leadership coaching engagement)
Recommended user experience practices and techniques with detailed guidance on how to plan, conduct, and make sense of their results
Periodic design and process reviews of your team's work
Twice-monthly one-hour sessions with Whitney, for a minimum of 6 months, to check on your team's progress, discuss new learnings and address any obstacles
Working with Whitney was not just a pleasure, but a transformative business experience." ~ Kitty Kolding, CEO, House Party
Armed with a decade of experience and a Master's degree in Human-Computer Interaction from Carnegie Mellon University, Whitney Hess is an expert in making technology easier and more pleasurable to use. She has honed the leading tools and techniques for understanding customer problems and resolving them immediately. But she doesn't just design usable interfaces; she goes deeper to foster an organizational culture that empowers teams to do their best work.
Take the Helm Timeline
Part 1: Establishing What You Know
Session 1: Getting to know you. Whitney will spend 90 minutes asking you a myriad of questions about all aspects of your UX leadership to get the full picture of your current situation. Clients have said these questions teach them so much about themselves in just one session.
Session 2: Offering a program. After taking some time to assess and plan, Whitney will present you with the proposed purpose and outcomes of your UX leadership coaching engagement together. This includes a clear articulation of the philosophical shift that needs to be made to help you not only do UX, but be a UX-centric organization. Whitney will then offer preliminary exercises for you and your team to take on to begin creating that shift, building your toolbox and strengthening your process.
Note: After Session 2, it is your decision whether you wish to proceed with the coaching program Whitney has devised. If you end here, you will walk away with a few new tools to use on your own. If you continue on with Whitney, she will guide you through developing a complete set of skills for yourself and your team every step of the way.
Part 2: Developing Effective UX Leadership
Sessions 3-12: Providing ongoing support. Every hour-long session will begin with you sharing your team's progress, including any insights gained and obstacles encountered. Whitney will then offer additional exercises to maintain your team's momentum or refocus your efforts as needed. She will also help you reframe leadership challenges that arise to see them in a new light, as indications of or opportunities for continued growth.
Part 3: Exploring on Your Own
Taking a break. The initial program is 12 sessions over a period of 5-6 months. Upon completion, you and Whitney will reflect back on where your team was when you began and where you are now, drawing attention to the UX practice you've created within the organization. Now is your chance to revel in the rewards of your hard work.
Sessions 13-15: Checking in. You will have follow-up sessions with Whitney scheduled 1, 3 and 6 months after your program completion. During these sessions, you will share your new insights from this vantage point, and discuss any exercises that need to be tweaked to keep the momentum going. Everything your team has learned up until now will be reinforced and deepened.
Part 4: Deciding What to Address Next
Sessions 16-?: Extending your program. Once your engagement comes to a close, you may choose to continue working with Whitney or end there. The decision is yours. If you renew, together you will identify a new issue to tackle, and the cycle will begin again.
As your coach, Whitney won't try to give you and your team all the answers, but instead will help guide you in a positive direction. She will be an ally, a sounding board, and a mirror. There are no judgments, no evaluations, and most of all, no pre-defined path. We'll figure it all out together along the way.
Are you ready to Take the Helm?
It's time to take the first step in changing how your team gets things done. Email [email protected] to tell Whitney what you need.
100% confidentiality. Results guaranteed.
All sessions conducted via phone, Skype or Google Hangout.
Additional fees apply for in-person sessions.
Email for pricing and availability.